ESMAP is a partnership between the World Bank Group and 18 partners to help low and middle-income countries reduce poverty and boost growth, through environmentally sustainable energy solutions. ESMAP's analytical and advisory services are fully integrated within the WBG's country financing and policy dialogue in the energy sector. Through the WBG, ESMAP works to accelerate the energy transition required to achieve Sustainable Development Goal 7 (SDG7) to ensure access to affordable, reliable, sustainable and modern energy for all. It helps to shape WBG strategies and programs to achieve WBG Climate Change Action Plan targets: 28% of WBG financing with climate co-benefits; scale up 20 GW in renewable energy generation and integrate an additional 10 GW of variable renewable energy sources into grids over 5 years; mobilize $25 billion in commercial funds for clean energy; invest at least $1 billion to promote energy efficiency and resilient buildings by 2020; and, increase support to policy actions for sector reform, including for fossil fuel subsidies.
​​

​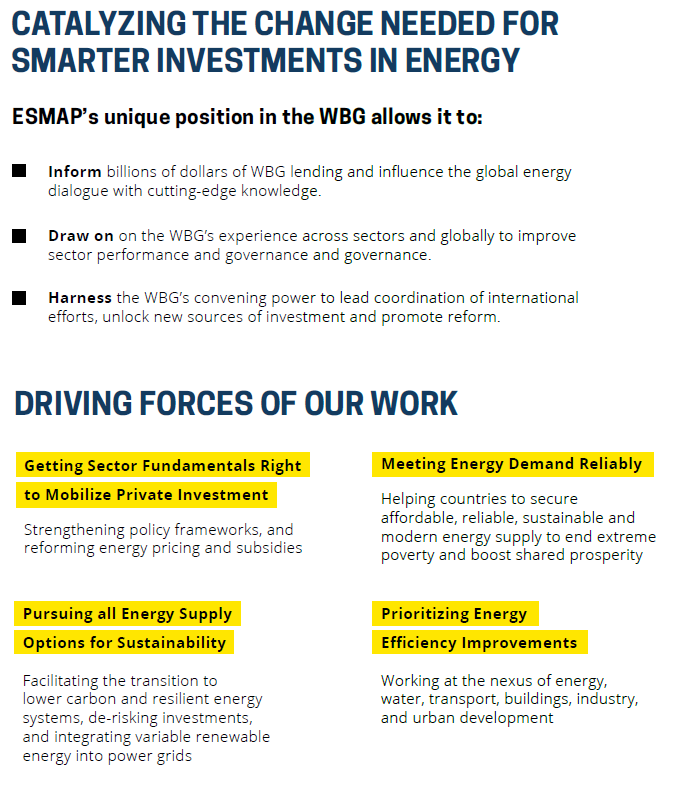 ESMAP's Theory Of Change
In support of the SDG7, the Paris Agreement on climate change, the World Bank's Climate Change Action Plan as well as the World Bank's twin goals of eliminating extreme poverty and boosting shared prosperity, ESMAP's business plan for FY2017–20 is organized around three thematic areas corresponding to the three SDG7 targets on energy access, renewable energy, and energy efficiency. Each thematic area comprises specific components to enable ESMAP to respond quickly to client needs. Three cross-cutting areas aim to address broader sectoral issues.These relate to energy subsidy reforms; energy sector governance, markets, and planning; and providing knowledge as a global public good through the SEforAll Knowledge Hub, while gender dimensions are mainstreamed across the entire work program.